In this article, I will share my all time favorite and go to, 5 home remedies to get rid of uneven skin tone. No bluffing, get ready to experience the real power of natural skin care. Instead of hiding our uneven skin tone patches and marks under layers of concealer, foundation, and corrector- can we actually get rid of it so that is skin looks naturally even? 
Home Remedies To Get Rid Of Uneven Skin Tone!
I have always wondered if I can ever have the guts to go out with an absolute bare face and confidence. Even the no make up look celebrities are hypes today about too has loads of makeup- what am talking about is real, like real bare skin. Can we?. What I recently discovered is that home is where all the answers lie and trust me guys all you would ever need is a little patience and consistency to get that skin you desire. Am so happy with my skin today and so here I bring to you 5 home remedies to get rid of uneven skin tone.
What is Uneven Skin Tone?
Uneven skin tone can affect anyone from young or old, a man or a woman, none of these factors matter. So have you wondered why you have that darkness around your lips or your forehead, this is known as skin tanning? Irregular skin tanning can be a result of various causes such as systemic illnesses or some other hormonal changes or just plain exposure to the environment. Hormonal skin discoloration can be controlled with a proper diet and some clinical treatments if the condition is severe.  When the overproduction of melanin is involved then this can be called as hyperpigmentation.
You are what is melanin right?  All the racism, speculation, clashing beauty theories are all centered around one poor biochrome named melanin, a dark biological pigment found in skin, hair, feathers, scales, eyes, and some internal membranes. This is one pigment that determines a person skin, hair, and eye color. In people who have high melanin production, the color of the skin will be on the darker side while for those who have low melanin production the skin will be lighter. Melanin is influenced by various genetical and environmental conditions, this is why people from all over the world come in different yet beautiful shades. So when you run for skin lightening products beware,  melanin pigment is actually protecting your skin from harmful ultraviolet rays of the sun, what these products do is reduce the production of melanin, which can, of course, lighten your skin tone but also cause serious irreversible damage to your skin.
Ok so, sometimes the production of melanin is triggered in certain areas of the body leading to pigmentation concentrated on certain areas alone. This is now a real problem, as this can make you look older and overall less appealing.
5 Best Home Remedies To Get Rid Of Uneven Skin Tone
There are numerous over the counter creams for hyper pigmentation but these are no less than any skin lightening products- I would stay far far away from those- but I was determined to get rid of my hyper pigmentation, I did not trust much in natural treatments as they never seem to work- boy, how wrong was I… here are 5 home remedies to get rid of uneven skin tone- but before starting off, remember once thing be consistent and be positive, fewer chemicals means more time to get results- but why care- if you can have perfect skin naturally?
Turmeric, Yogurt, And Lemon Juice Face Pack
If you don't have an allergy to turmeric- then this would be the top face pack on my list. But i absolutely love this mask which is why it's the top on my 5 best home remedies to get rid of uneven skin tone.  It's easy and effective especially if you also have issues with pimples and dark spots. You need- 2 tablespoons plain yogurt, ½ teaspoon lemon juice, and 1 teaspoon turmeric. Mix all the ingredients in a clean bowl, apply the mixture on a clean face (remember,  cleaning is a no skipping rule). Let it dry, now here is the main part- before washing it off, wet your palms and gently massage the product on your skin for a slight scrubbing effect. Now wipe off the rest with a clean towel dipped in lukewarm water. Do this a week for a month- if you think there is no change, keep a before and after photo of your- trust me you will be surprised.
Tomato, Lemon Juice, And Honey Face Pack
(This one is for those who are not a fan of turmeric and for those who have oily acne prone skin)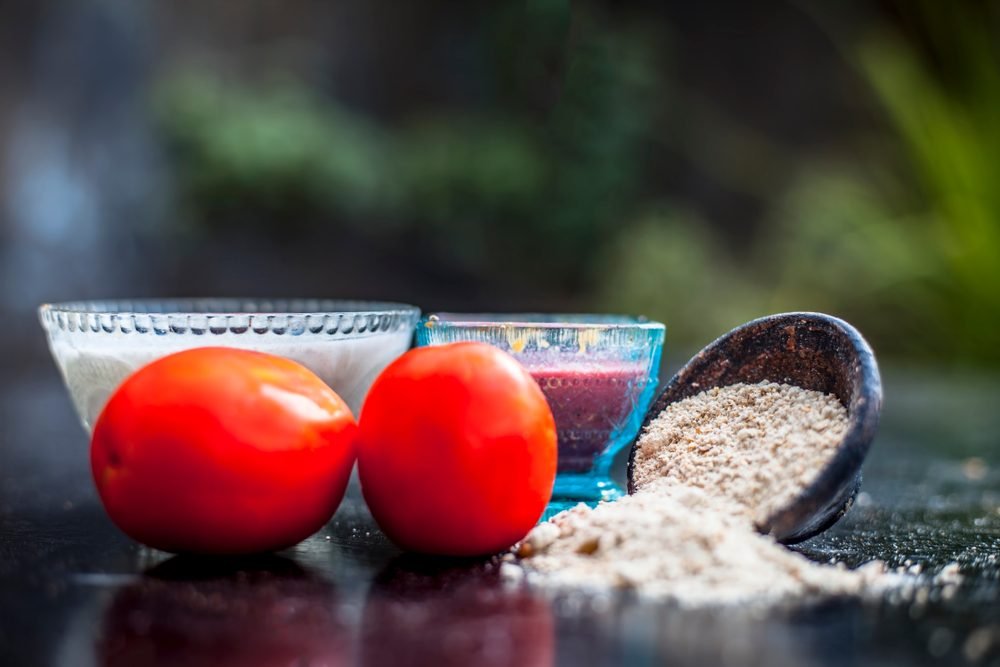 Tomato is rich in vitamin A and honey is the best moisturizer you can get your hands on. Before applying this face pack- stream your face and gently scrub your skin with rice powder. Rice powder due to its consistency acts as a  natural and gentle exfoliant to get rid of dry and dead skin cells. Once you are done- take a clean bowl, add 1 tablespoon tomato juice, 2-3 drops lemon juice and 1 tablespoon, honey. Mix this well and apply it on your face. Let it stay for 30 minutes . when you wash it off initially use lukewarm water and then-then use cold water. This is to close off any open pores and prevent it from clogging.
Tulsi, Neem, Multani Mitti, And Rose Water Face Pack
Mix 1 teaspoon Multani mitti, 1 teaspoon neem powder, 1 tablespoon rosewater and 1 teaspoon tulsi powder in a clean bowl. Spread the paste on your face and allow it to dry. And rise of with cold water after 30 minutes. You can rise off sooner if you feel the pack drying and tugging on your skin. Make sure you wash it off it circular motion- as this can help you get rid of dead skin cells and dullness. If you have dark spots this pack is going to surprise you for sure.
Orange, Sugar, And Aloe Vera Gel Face Pack
Orange juice and aloe vera are a great combination for healing and de-tanning, Sugar is an excellent exfoliant (if sugar is too harsh on your skin you can use rice power). To start off the pack, take a clean bowl, take  2 tablespoons aloe vera juice, 3 tablespoons orange juice and 1 teaspoon brown sugar. Mix the ingredients and apply this evenly on the affected areas, leave it on and rinse of lukewarm water when you feel it's dry and tugging on your skin.  gently massage the face pack for 5 minutes in a circular motion before completely washing it off.
Cucumber, Rose Water And Lemon Juice Spray
If you are not in a mood to cut and mix all the stuff, then this is a lazy day tan face mist that will work just fine. You will need ½ cucumber and Juice of ½ lemon.  Add the lemon juice to the cucumber pulp and blend them, extract the juice and pour it into a spray bottle, now add 1 tablespoon of rose water and shake well. You can store this in your refrigerator for about a week. All you need to do is wash your face and spray this mist on. Rinse off after 1 hour. I keep this handy when am too lazy to even move around. This still gets the job done. the mask is extremely hydrating face mask and a cool way to get rid of blemishes and hyperpigmentation.
I hope my favorite top 5 home remedies to get rid of uneven skin tone help you as much as they helped me. Let me know why you guys think. And yes, trust in nature.