It is said that life is not perfect, but your nails can be. So true, there cannot be anything best for a woman to relax, listen to good music, and take care of her nails or pamper her nails. And, this, only the women folk can understand. Nails show our personality and they have the power to turn an old dress into a new look; credit courtesy: good, beautiful adorned nails.
How To Take Off Acrylic Nails At Home? 
However, it is a fact that everyone is not blessed with good nails. First thing first, it takes a bit of effort to take regular care of your nails if they are brittle. Regular home care with natural moisturizers can brighten up your nails. Then, applying a nice coat of nail lacquers is not sufficient but good on a routine basis. However, as the time is changing girls and women are now opting for acrylic nails, nails spa and nail art which can go for around 15 days to more than a month, depending on what type of nails you choose.
Nails: Women's Best Friend
Having acrylic nails are the hottest trend as of now. It is the easiest option to add length to your nails, especially, if they don't have the proper growth tendency. On a very basic note, as we know, Acrylic nails are a blend of powder polymer and a liquid monomer. What they do is actually creating a hard layer to protect your natural nails. When this product comes in contact with air, the nails get harden. Also, nails get broader and longer and offer a perfect platform to apply nail colors.
Acrylic Nails: Removal @ Home
Now, with Acrylic nails, comes another task of taking them off. Although, it is always suggested to take help from professionals at the salon, however, it can charge you money. On the other hand, there is an option of taking them off at home without acetone. So you can save your money by taking them off at the comfort of your home, that too without making your nails and skin comes in direct contact with harsh acetone.
First method is a bit time consuming as it is without acetone, and you may require your regular nail paint remover for this. Alongside, you may also require tweezer, some nail clippers, and a bowl. With the help of the nail clipper, you need to clip your nails as short as possible. Pry the edges of the nails with a tweezer, and then pour some acetone free nail paint remover in a bowl, and soak your nails in them for around 40 minutes. This will loosen the hard acrylic nail which can be easily taken off by tweezer.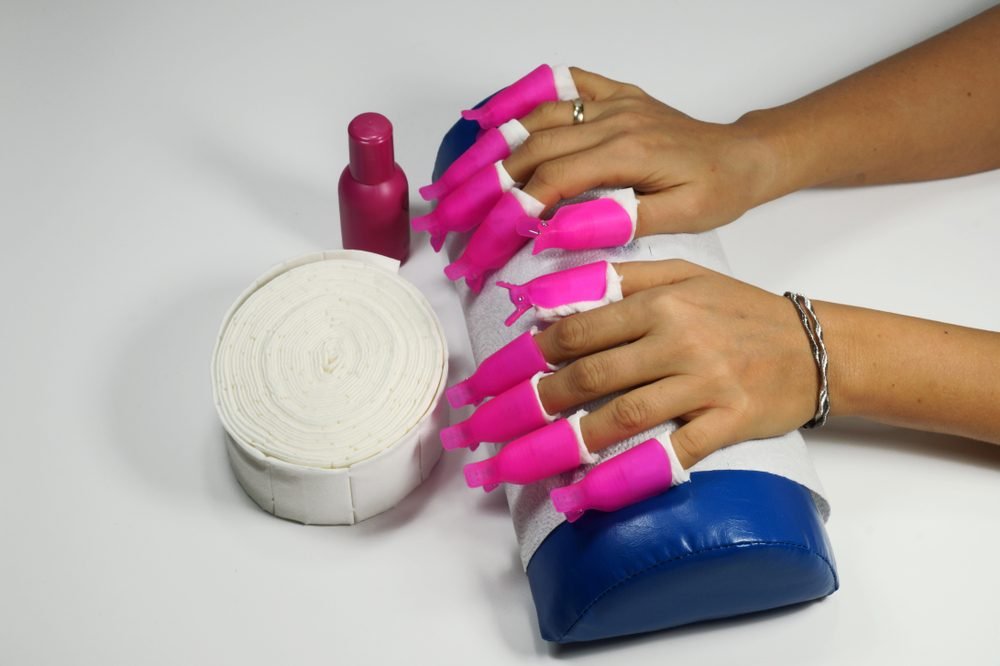 Second option is your nail filer, and this will also not require any acetone. The best part is that though it is time-consuming, the skin will not come in contact with the chemicals of acetone. You may require a buffer or a nail file, orange sticks, cuticle oils, cuticle scissors, and nail clippers. After removing the paint and design from the nails, clip them short. Then start filing them till the time you reach your actual bed. Also, you can pry nail with tweezer if the acrylic is not completely off, and use cuticle scissors to take them off; though, in small pieces. After removing the entire acrylic nail, scrap off the acrylic glue with an orange stick. Keep using cuticle oil as the process can be harsh.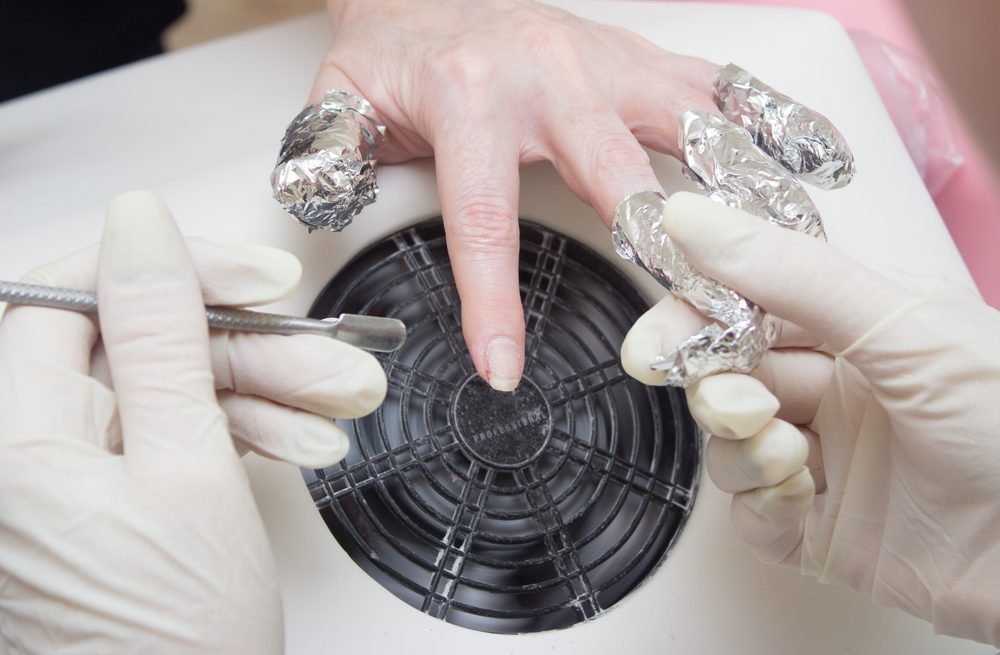 Third option is to use hot water rather acetone to remove your acrylic nails. This method everyone swears by, at is most gentle on your hands, and easy and safe as well. You will require warm water, nail filer, and nail clipper and orange sticks. After trimming your nails short, soak your hands in the bowl of warm water. To dissolve the glue, soak your hands for around 40 minutes, and if the nails do not come out repeat the process of adding warm water. Remember, that you have to dip them in a position that the water can get into the inlet made with an orange stick.
Important Tips
. Don't ever try to forcefully take your nails out. It can cause infection and can be painful. You have to be very patient and gentle.
. Don't forget to use cuticle oil from time to time and use gentle moisturizer for your hands and nails.
. Choose a comfortable place for you as the process can be time-consuming.
. After your nail has been removed, scrape off the glue and acrylic nail residue from the nail bed.
. Wait for at least seven to let natural nails be in their form, and then visit at your salon for acrylic nails.
Hope you are now clear about how to take off Acrylic Nails at home without Acetone. So, on a concluding note, make your life perfect with your perfect nails!