Hemp seed oil is obtained by cold pressing the hemp seed. Hemp seed is as tiny as a sesame seed and packed with essential fatty acids, minerals, vitamins, and other necessary components. All these significant components can benefit our body from inside and outside as well.
How To Use Hemp Seed Oil For Skin?
The hemp oil contains essential fatty acids like omega 3 and omega 6 which are anti-inflammatory in nature and can prevent skin from various problems to make it healthy. In addition, Hemp seed oil has a very low percentage of THC (tetrahydrocannabinol) which is a psychoactive component found in marijuana. The oil has many benefits and can be used in several ways.
 Uses of Hemp Seed Oil For Skin
Unrefined hemp oil is a natural moisturizer which can protect our skin and also prevent from skin irritation. It also helps to cure skin rashes since the oil is packed with fatty acids like omega 3 and omega 6. The oil is also responsible for youthful, soft and smooth skin. Hemp oil is comprised of polyunsaturated lipids which help to maintain the elasticity of the skin. We can also use the oil for cleansing that can clear acne. Moreover, hemp seed oil can provide much-needed amino acids for our body.
As we learned, there are various benefits from the hemp seed oil, now we need to know the proper use of the oil.  To get the best perk from the oil, it is significant to know the right usage of hemp seed oil. Here are different ways to use hemp seed oil for skin:
Hemp seed oil can be used for cleanser depending upon the types of skin. For this, you need to gently massage the oil into your dry skin face. You can also add other carrier oils to the hemp oil to get better results. After that, you need to dip a clean cloth in hot water and wrench it out. After resting the cloth on your face for a minute to open the skin pores, you need to wipe off the residue. The oil blends with your skin dirt which makes it easy to clean the skin as you wipe with the cloth. You can also remove makeup by applying the oil on your skin and simply wiping it off after a minute. You don't need hot water for the process, just a dry clean cloth will do.
One of the simplest ways to use hemp seed oil for skin is as a moisturizer. After cleansing, you can rub the oil for a few minutes before wiping off the excess. The oil is easily absorbed by the skin, that's why many people prefer to use it as a moisturizer. Hemp oil can reach underneath the surface which helps to reduce skin dryness. One thing to keep in mind is to use the hemp oil either as a moisturizer or a cleanser. If you use the oil as both moisturizer and cleanser, there may be skin issues for certain skin types.
It may sound strange to hear that oil can play a significant role in acne treatment but hemp oil really works. Since hemp seed oil is noncomedogenic oil, it rarely clogs your skin pores. Hemp oil consists of essential fatty acids like linoleic which helps to produce the right quality and quantity of sebum. The sebum, in turn, helps to keep the skin moisturized and prevent from clogging.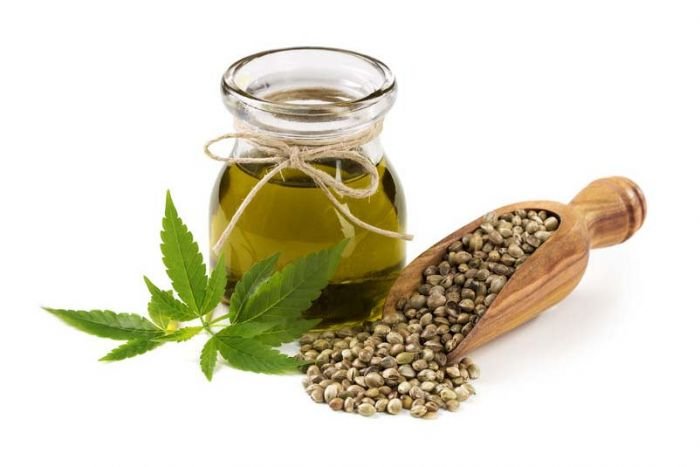 You can create a hemp oil mask by blending hemp seed oil with other different oils. For this, you need:
1 ripe avocado (about 2/3 cup)
3 Tbsp. Nutiva Organic Hemp Oil
1 Tbsp. Nutiva Organic Coconut Oil
4 drops lemongrass essential oil
2 Tbsp. Bentonite Clay (or French Clay)
Firstly, you have to blend avocado, coconut oil, hemp oil, and lemongrass essential oil in a blender. Take out the mixture and stir with the bentonite clay in a bowl. You can now apply the pack on your face and leave for 10-15 minutes before rinsing it off. The oil mask not only moisturizes your skin but also clarifies.
Hemp oil is naturally harvested without any harmful chemicals and has many benefits for our skin. Thus, it's better to use oil to protect the skin rather than using harmful chemical products.